July 7 and 8, 2018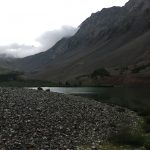 Trailhead: The trailhead is about 90 minutes form Cortez, CO. Take Hwy 145 our of Dolores toward Rico. Turn left on MC Road 38, at the sign to Dunton. This road is paved for about 12 miles and then it turns to gravel. Keep going after the road becomes gravel for another 11.5 miles to the Navajo Lake Trailhead. This trail enters the Lizard Head Wilderness Area.
Note: About 6 miles after the road turns to gravel is the Geyser Trailhead. We have hiked
this fun trail to a real geysers several times, but seems to have never created a post about it. Ten miles after the road turns to gravel is the Burro Bridge Campground. This is about 1 hour and 20 mins from Cortez and is a nice little campground for a jumping off point to high mountain hikes in the area.
Terrain: This is a mountain hike through meadows and forests to an alpine lake. It is a well marked and easy to follow trail to the Navajo Lake Basin at about 11,100 ft. Several peaks surround the basin: Gladstone Peak (13,913-ft.) at the head of the basin while El Diente (14,159-ft.) and Mount Wilson (14,017) are above the bowl's south ridge. Wilson Peak (14,246-ft.) is the basin's northern wall.
Accessibility: Because this trail is in the Lizard Head Wilderness Area, certain types of travel are restricted. The trail is open to humans on foot, and horses. No motorized vehicles and no bicycles.
Length: This trail is about 9 miles round trip. If you take the trail past the lake and continue on to the saddle at the back of the basin it is 14 miles round trip.
Difficulty: I've seen this listed on some sites as moderate and some as difficult. I've read of folks saying it is easy. It's really all relative to your fitness and type of hiking you are used to. This trail has some of the steepest switch backs during the last 1.5 miles of the trail that I have experienced anywhere other than scrambling up a peak. They are steep and long. And for perspective, this weekend, we were a 48 and 17 year old who mostly exercise by walking and hiking and we were doing the trip with backpacking gear. We are definitely not athletes! We would do it again arm hopefully will soon. The trail was not easy, but it wasn't difficult enough to be a deal breaker. In fact, we want to go back soon with plans to make it up to the saddle.
Highlights: About an hour from the trail head there is a side trail to a nice waterfall. This would be a fun destination for those who aren't up to the full, steep hike to the lake. It took us about 3.5 hours from the trailhead to the lake. There were several options for tent sites, and this is a fairly well used camping area. You will likely share the camping with another group or two. It took us about 2 hours and 45 mins for the hike down from
the lake to the trailhead. It took longer than I expected -mostly because the area of steep switchbacks was no faster going down than up, due to the incline.