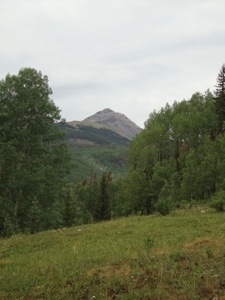 Back in July last summer, my family went out of town for two weeks and I was given the gift of two weeks to take care of no one but myself. My friend Rebecca and I hiked to Owen's Basin. I had never been there before. It was a wet day and the two themes for the day were fungus and poop. I know, you would think I had an 8 year old boy along. But no, there was simply an abundance of fungus and poop on the trail.
Trailhead: This is off of Forest Service Road 566. Turn left on 566 A at a fork in the road. Keep going about 1/4 mile to the parking area which is just a "road closed sign".
I didn't keep great notes on the details of the hike and since it's been a year, I don't remember much. But here is what I do know, and some pictures.
It took us about 3 hours from the trail head to the basin and about 2 hours to hike down from the basin to the car. It was 30 minutes from the trailhead back to Mancos.